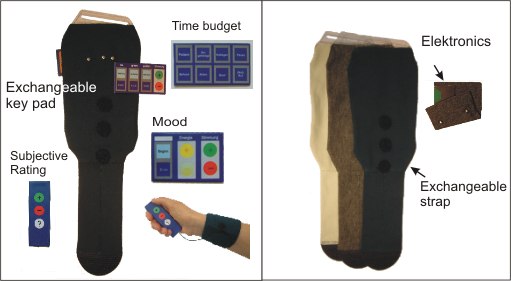 The Smartband is a textile bracelet, which preferably - but not exclusively - can be worn on the wrist. Equipped with sensors and electrodes, it transduces and saves peripheral physiological parameters, namely


a) Skin conductance
b) Skin temperature
c) Pulse volume pressure


Skin conductance can be captured both by means of using dry or gel ECG electrodes. In either case, the electrodes are simply pinned like a press-button on the sensor band.

Skin temperature is measured by a high-sensitive skin-sensor which is contacting the skin

Positioned at the pulse location of the arteria radialis the sensor captures volume pressure force of the blood wave, which runs through the body with each heart beat.
By its specific placement, the sensor also captures volume behavior of venes. This allows for breathing pattern detection.

Besides, the Smartband is equipped with

a) a tri-axial acceleration sensor for actimetry
b) a mini keypad with up to 23 push buttons. It is attached via snap fasteners.
c) bluetooth module



---
Technical characteristics of the Smartband:

- Exchangeable textile band

- Data storage in ASCII-format on a removable memory card (up to 2 GB)

- Freely adjustable capture rate up to 1500 Hz

- Rechargeable and exchangeable lithium-ionic battery